News classification
Contact us
Add: ChanFu Dong Road,XiaoBian Village, ChangAn Town,DongGuan City,GuangDong,China
Tel: +8613652508770(Jerry )
Fax: 0769-23094426
Email: [email protected]
Direction of Pogo PIN design scheme
Now that smartphones, tablets, blood sugar monitors and countless other electronic devices are increasingly size-intensive and tightly packed, there isn't much room left for Pogo pins. So the smaller the Pogo pin becomes
Now that smartphones, tablets, blood sugar monitors and countless other electronic devices are increasingly size-intensive and tightly packed, there isn't much room left for
Pogo pin
. So the smaller the Pogo pin becomes, the more important it becomes. This trend is also seen in the defense and aerospace sectors, such as satellites, guided missiles, and avionics systems, where compact requirements are met only by "miniaturized" Pogo Pins. The increasing demand for smaller Pogo pins has created a new set of challenges for design engineers. They could no longer leave the Pogo Pin design to the final stages of the project. Miniature Pogo pins require forethought. It requires the designer to consider a wide variety of factors in advance, such as packaging, durability, current load capacity, and replaceable.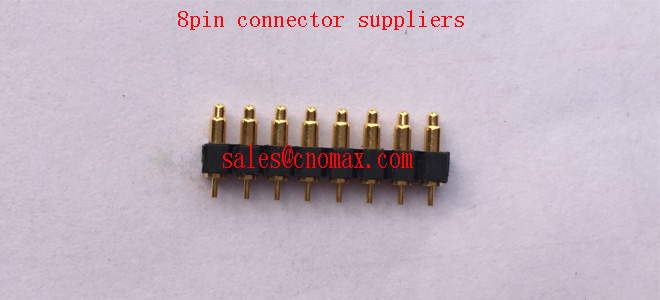 Direction of Pogo PIN design scheme:
1. Think about Pogo Pins early in the design process: Engineers tend to focus too much on designing the overall system and leave Pogo Pins to the end of the design process. "They thought Pogo Pin was simple, so they could leave the design to the last stage," says Andy, head of product Development engineering at Cnomax. Then they get stuck on their own design." Andy has seen too many designers rush the Pogo Pin story in the final stages of design. In many cases, he tells us, designers end up choosing non-standard Pogo pins to finish the design, which drives up costs and delays delivery times. To avoid this problem, experts recommend thinking about the Pogo pins you will use early in the design process, then reserving space for them and designing around them. First, decide on the Pogo pin you need, says Linda, product development engineer at Cnomax, "but if they do it, it actually saves them a lot of time and a lot less hassle."
2. Be aware of space limitations: Although miniature board-to-board Pogo pins are typically less than 1 mm thick, they are also commonly used in tightly packed applications. To address potential packaging issues, the designer needs to consider the wiring on the PCB board and the additional wires attached to the Pogo PIN. "Because the spacing is smaller, you have to make the trail and wire narrower." China regional product manager Anki said. Also, keep in mind that some Pogo pins (e.g., flexible cable Pogo Pins) provide the option to flip forward and backward. When designing your system, you need to consider these flip methods. For example, a
Pogo pin
flipped backwards might not be easy to access if it has another component on its back. Finally, designers need to be aware that surface mount devices sometimes cannot handle smaller components. In some cases, they need new vacuum nozzles to solve these problems.
3. Understand the current load capacity: As the Pogo pin size decreases, the current load capacity of the Pogo PIN also decreases. In general, miniature Pogo pins can handle currents between 200mA and 500mA, which is about half the rated current of larger board-to-board Pogo pins. To compensate for the lower current-carrying capacity, the designer may need to increase the number of terminals.
4. Consider the stability of small/micro connections: "I need to suggest this, not only during the design phase, but also during the assembly process, to ensure that they are not compromised." Andy of the Cnomax Pogo Pin Factory. Andy, a micro Pogo pin design expert in RF applications, recalls that half of the Pogo pins he designed for military and space applications were destroyed during the testing phase. If the problem is not taken to heart first, it could drive up costs, he said. Damaged Pogo pins need to be reconfigured, refurbished, and marked. It may even need to be replaced with more expensive, field-replaceable Pogo pins, and such a change may add another week or two to the design time. Andy says, "It's important to always prioritize existing Pogo pins, and if those Pogo pins aren't compatible with your design, then consider designing your own, which can save you a lot of time."
5. Consider replaceable: If the exterior of the product is closed, then you need Pogo pins that can be changed from the outside. Otherwise, you'll need to do some welding. "The more you do it, the better you get at skills like welding, but the higher the risk of damage to the whole system," Anyd said.
6. Understand the functional requirements of Pogo PIN: suppliers need customers to fully express their needs, otherwise they may misunderstand the needs of customers. This is especially important when it comes to making custom Pogo pins. "It is critical to clarify exactly what the Pogo PIN needs are," says Andy. "If this is unclear or missing, we may miss the key requirements of the design."
7. Consider mechanical stresses: temperature, shock and vibration can create stresses between interfaces and circuits. Experts suggest that you choose a Pogo pin that can avoid these forces. "I have seen solder joints on some PCBS that have splintered," Andy says. "When a Pogo pin is firmly attached to the board or external structure, it must be able to withstand the forces of impact and vibration, or it may crack. Anki advised engineers to use an interconnect system to minimize the build-up of stress between the mounting structure and the connection points. "There are many vendors that offer such systems." "Designers should pay close attention to this," he said. Cnomax Pogo Pin Factory was founded in 1997, is a precision connection as the leading, technology development as the core, set research and development, production, sales as one of the high-tech enterprises. Our main products are: Pogo PIN, magnetic Pogo PIN, magnetic charging data cable, adsorption Pogo PIN. Our products are widely used in smart wear, mobile communications, digital cameras, automobiles, medical devices and other fields.
Our technology research and development, product innovation has been in front of the market development. At present, the company is expanding its sales market in mainland China and Taiwan, and some of its products are also exported to North America, Western Europe, South Korea, Japan and other regions. Cnomax goal: to create a world famous brand, to create a larger and most professional magnetic Pogo PIN manufacturing base in China. In the new century, we will take the revitalization of POGO PIN industry as our duty and establish the brand of magnetic connection industry as our goal. We will continue to take our steadfast attitude, with diligence as the paddle and wisdom as the rudder. Continue to do our best to provide new and old customers with high quality products and perfect service.